Joseph Stalin was the leader of the Soviet Union from the mid 20s to his death in 1953. Although many consider him as a tyrant, in Russia opinions are divided. His children, loved by their father, had interesting lives that led some of them far from home, and some into early death.
Stalin's youngest son Vasily
Vasily was born on March 24 1921 and he was the child of Stalin's marriage to his second wife – Nadezhda Alliluyeva. When he was 11, his mother Nadezhda committed suicide.
Like most children of the Soviet elite members of society, Vasily became a pilot. His plane was shot down five times, and he was known as a bold and brave pilot of the Soviet Army. His father was so hard on him that he was only after 12th request granted the rank of general.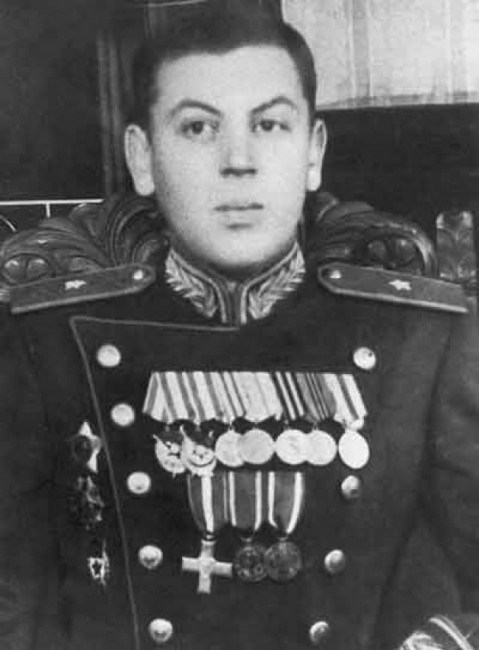 Vasily loved to pilot his plane drunk so he could show the courage to the girls, and his father banned him from flying once.
In Leningrad, he was the first one to who started the construction of sports facilities and one could say that the credit goes him for football and hockey presence in Russian sport at the time.
After his father's death, he had a manic desire for revenge because he had claimed that his father was poisoned. What marked his military and personal life is wickedness to alcohol, according to media.
Also, he was considered a great womanizer, and this was supported by the fact he married four times. He was known for organizing "parties" where orgies were usual fun, and all of this terrified his father. He was arrested for "Soviet negative publicity" and admitted at the trial even the most basic charges. At his own request, he was set as auto-mechanic in prison.
After serving a prison sentence of eight years, he was banned from staying in Moscow and his surname Stalin was taken. He ended his life in Kazan where he died due to a severe alcohol abuse.
Firstborn son Yakov
Yakov Dzhugashvili Stalin was the eldest son of the great dictator, and he was born on 18 March in 1907. He spent his childhood in Tbilisi, and graduated in electrical engineering in Moscow.
His love life was turbulent, he married three times. He met his third wife when he fought with her husband in a pub.
When the Second World War started, Yakov served infantry of Soviet Union, and distinguished himself in the battle of Vitebsk for which he received the recognition.
The Germans captured him in 1941. year, and he spent nearly two years in the German concentration camps. Historical records show that Yakov bravely defended his country at the trials, but was disappointed in the actions of the Red Army.
When Hitler's army lost the Battle of Stalingrad, the Red Army captured German Field Marshal Paulus and the Germans wanted to exchange him for Stalin's son.
However, to the surprise of all, Stalin refused this exchange, not wanting to change the field marshal for his son, because he thought he was an ordinary soldier and the Soviet Union did not want to give him special treatment. After this military move of his father, a matter of subjective assessment, Yakov jumped out of the barracks in the camp and told the German troops, "Fire, fire" as they did.
However, there are other theories about the death of Stalin's eldest son, saying that he was not shot, but he jumped on electric fence.
Historians claim that Stalin was most proud of his son Yakov, Vasily caused him the biggest headache for the flamboyant life, while his daughter Svetlana was his sweetheart.
Fabulous destiny of Stalin's daughter
Stalin's daughter Svetlana was born on 28 February in 1926. During the period from 1932 to 1943, she was taught in 25 schools in Russia. She studied at the Faculty of Philology and Literature and in addition she opted to history. Although considered as a dictator, Stalin was in her childhood a loving father and called her "Birdie." He lavished her with gifts and brought her the American films.
Her teenage days were marked with The Second World War and estrangement from her father. Once, when she was 18 years old, while setting the table for dinner in the Kremlin, she met Winston Churchill. According to "The New York Times", they had pretty interesting conversation.
She became the darling of the nation, similar to Shirley Temple in the United States. Thousands of babies were named after her. She worked as a translator in English and literary editor. The first marriage she entered was with schoolmate of her brother Vasily, but she soon divorced and married Yuri Zhdanov with whom she had a daughter. Later she had another marriage and with Ivan Alexandrovich, who was a prominent Soviet scientist.
In 1962, she decided to be baptized in the Orthodox church, along with her daughter. For a while she was in India where she got married for the fourth time, and when she was allowed to return to Russia, she immediately asked for political asylum in the United States. There she published "Twenty Letters to a friend," a book in which she wrote about her father's life and the Kremlin, and the book caused a sensation. Some say she earned about 2,5 million of dollars from the book.
Her fifth marriage was with William Peters in 1970 and she gave birth to a daughter, Olga. She took the name Lana Peters, which she maintained even after the divorce. From America, she goes to England, specifically to Cambridge where her daughter was studying.
She unexpectedly returned to Moscow in 1984, where she was welcomed with enthusiasm by the government and immediately she was returned the USSR citizenship. However, she failed to find a mutual understanding with her son and daughter from her first and second marriage and she left.
She settled in Wisconsin in 1992, and lived in a monastery for a short time. She died on 22 November in 2011, due to the colon cancer. In the following year, the FBI removed the label "Classified" on the documents with information about her life in America.