Bridesmaid dresses are carefully chosen to complement the wedding theme and the bride's wedding dress and create a cohesive look for the bridal party. However, their journey doesn't have to end after the wedding day. Bridesmaid dresses have incredible potential for restyling, offering a unique opportunity to transform them into fashionable outfits that can be worn on various occasions.
We will delve into a world of creativity and imagination, discovering ways to restyle these dresses into fashion-forward ensembles that transcend their original purpose. From simple alterations that enhance the fit and silhouette to innovative repurposing techniques, we will explore various possibilities to transform bridesmaid dresses into stunning outfits.
So, if you have a bridesmaid dress hanging in your closet, longing to be worn again, join us on this exciting journey of transforming it from a symbol of the past into a fashion-forward piece! 
Part 1. Assessing the Dress and Setting the Stage for Restyling
Before embarking on the journey of restyling your bridesmaid dress, it is essential to assess its design, fabric, and overall condition.
Do you want to transform it into a casual summer dress, an elegant cocktail outfit, or a trendy ensemble for a night out? Consider your style preferences and the events you anticipate wearing the dress to. Whether aiming for a bohemian-inspired look, a classic and timeless appeal, or something bold and fashion-forward, let your creativity guide you in shaping the dress's new identity. 
Part 2. Alterations and Modifications for a Personalized Fit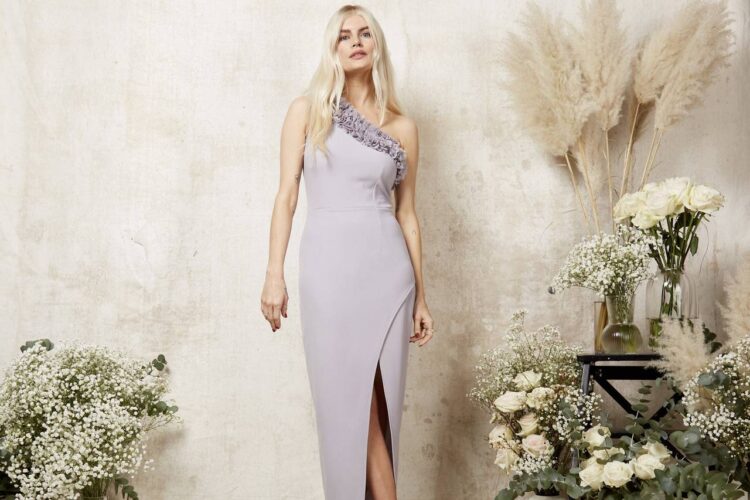 A skilled tailor will have the expertise to assess the dress's fit on your body and recommend the necessary alterations to achieve a personalized and flattering silhouette. A good alteration can accentuate your curves and enhance your natural beauty. Their trained eye can also identify any structural changes needed to transform the dress into your desired style.
Restyling a bridesmaid dress often involves altering its essential elements, such as hemlines, necklines, and sleeves. Consider adjusting the hemline to transform a floor-length dress into a chic tea-length or knee-length design. Changing the neckline may be more challenging than changing the hemline and sleeves. It's altering the basics of the dress, communicating with the tailor if it is makeable, and the risk you need to take.
Adding or removing sleeves can also provide versatility, allowing you to adapt the dress for different seasons or occasions. Some sellers can offer the same dress fabric by the yard, like eDresstore.com. It's highly recommended that you order one-yard fabric together with your dress. This can avoid dyeing a lot and make things more smooth. Furthermore, eDresstore specializes in customizing and individualizing dresses and various styles of modest bridesmaid dresses. You can ask for some half-made sleeves or embellishments for future use. 
Part 3. Accessorizing to Elevate the Look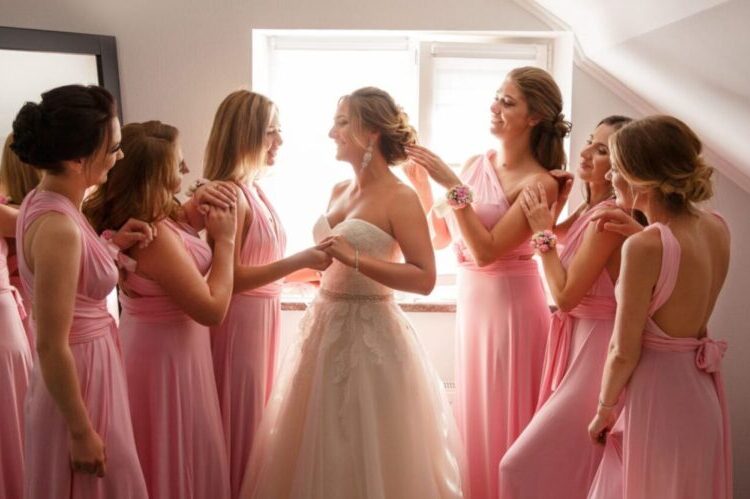 The right accessories can elevate the look, adding personality, style, and a touch of glamour. Consider your dress's color, fabric, and style to ensure a harmonious and cohesive overall appearance. For example, if you have a mauve-colored bridesmaid dress in chiffon fabric, opt for accessories that complement or contrast the dress's hue. Soft pastel shades like blush or dusty rose can create an elegant and romantic look, while metallic accents in gold or silver can add a touch of sophistication.
Statement jewelry can transform any outfit, and your restyled bridesmaid dress is no exception. Consider adorning yourself with bold, eye-catching pieces such as chandelier earrings, layered necklaces, or sparkling cuff bracelets. These accessories can instantly elevate the dress and add glamour and individuality. Additionally, consider incorporating a belt to cinch the waist and create a more defined silhouette. A beautifully embellished or metallic belt can bring a touch of elegance and visual interest to the dress.
Consider draping a chic scarf or stole over your shoulders to add versatility and charm. This accessory provides warmth and adds texture and sophistication to the overall look. Alternatively, opt for a stylish bolero or shrug from a complementary fabric or color to create a layered and polished effect.
Part 4. Creative Ways to Repurpose the Dress
Transforming the Dress into a Skirt or a Top for Mix-and-Match Versatility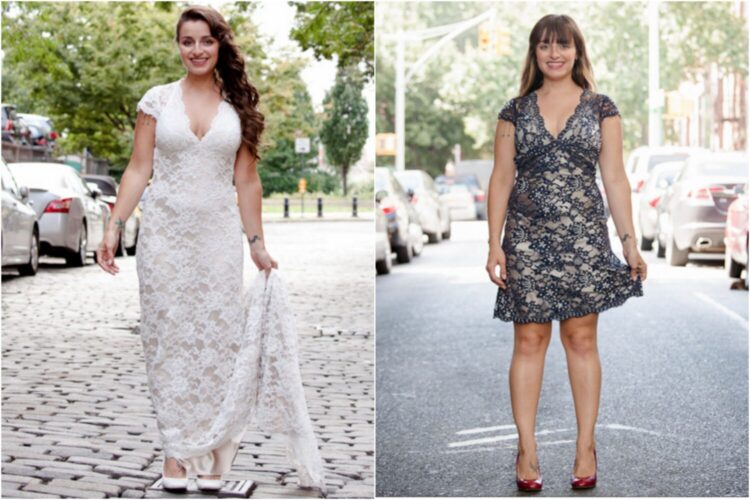 One of the most creative and versatile ways to repurpose a bridesmaid dress is to turn it into a top and a skirt. Doing so allows you to breathe new life into the garment and maximize its wearability for various occasions. To convert the dress into a skirt, consider removing the bodice portion and adjusting the waistband to fit your waist perfectly.
Similarly, you can repurpose the dress into a top by removing the skirt portion and adding any necessary modifications to achieve the desired style. This allows you to mix and match with other pieces in your wardrobe, giving you countless outfit possibilities and ensuring your bridesmaid dress remains a fashion-forward staple in your closet.
Repurposing Fabric into Fashionable Accessories or Home Décor Items
Another creative way to repurpose your bridesmaid dress is to utilize the fabric for various accessories or home décor items.
Additionally, consider repurposing the fabric into home décor items. The exquisite fabric of a bridesmaid dress can be used to create decorative pillow covers, table runners, or even framed artwork. These personalized and handcrafted pieces will infuse your home with sentimental charm while showcasing your creativity and style. 
Part 5. Experimenting with Styling and Pairing
Consider the neckline and overall style of the dress when choosing your hairstyle. Opt for a classic updo or romantic curls cascading down your shoulders for an elegant and timeless look. If your restyled dress has intricate details or a statement back, consider styling your hair in a chic low bun or a side-swept hairstyle to showcase those elements. Don't be afraid to accessorize your hair with embellished hair pins, delicate flowers, or stylish headbands to add a touch of glamour.
Let your restyled dress inspire your makeup. Opt for natural and glowing makeup with soft pastel shades on the eyes and rosy blush on the cheeks for a soft and feminine look. If you aim for a more dramatic and glamorous appearance, consider a smokey eye paired with bold lip color to make a statement.
The right choice of shoes can make or break an outfit. It's essential to consider different shoe options that complement the new style. For a formal and sophisticated look, opt for classic pumps or strappy heels in a neutral color that matches or complements the color palette of your dress. If you're aiming for a more relaxed and casual vibe, consider pairing your restyled dress with stylish flats, sandals, or ankle boots, depending on the season and occasion.
It's time to step into the spotlight and showcase your style prowess. Restyling your bridesmaid dress is not just about fashion but also about embracing your journey of self-expression and creativity. So, experiment. Let your restyled bridesmaid dress tell a story of fashion, individuality, and empowerment